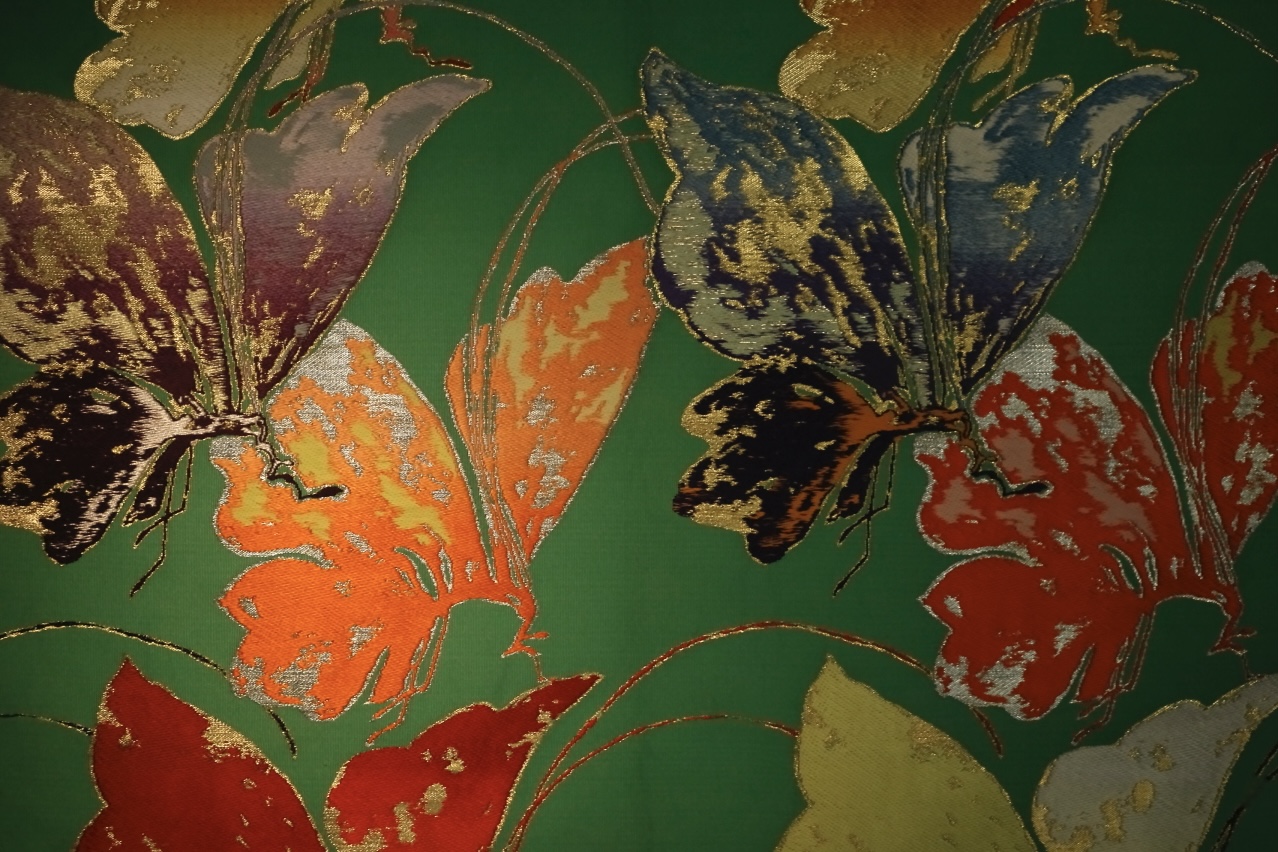 Tatsumura Bijutsu Orimono established a new field of "art textiles" in textiles.
With the advanced restoration techniques and creative designs inherited from Heizo Tatsumura I, Tatsumura Bijutsu Orimono has been restoring important textiles held in various parts of Japan and producing original art textiles.
He researches and restores old textiles and creates new and original textiles based on what he learns from his research.
"Originality" and "restoration". The following is an unraveling of the activities of "Weaving the New with the Past" – the basic spirit that has been passed down from the founder Heizo.
"The beauty of weaving" – an aesthetic expression that symbolizes unique and originality.
Tatsumura's art textiles are characterized by an aesthetic expression that is both precise and bold.
Tatsumura's bold yet delicate compositions, colors, and the unique stories behind them captivate the viewer.
For example, Heizo Tatsumura I was particular about the three-dimensionality and colors of his designs, which were not found in conventional obi, and he used the properties of threads to create three-dimensional patterns. Originally, textiles were three-dimensional objects made of warp and woof threads that intersected (structured) to create an even-numbered, divisible world, but "art textiles" weave in another thread of "beauty" to create an odd-numbered, undivisible world.
The first generation is known for developing "Takanami weaving," which adds depth and color to obi.
Takanami weaving" is a technique that became the basis of three-dimensional textile modeling, and was registered as a utility model in 1906. In this technique, a strongly twisted and glued thread is woven into the weft, and the glue is then removed by steam heat, which causes the thread to twist back, resulting in an uneven surface. The raised relief-like patterns, such as flowers and grasses, have a mysterious shimmer that is hard to believe that they are woven fabrics.
The first generation also succeeded in weaving realistic patterns by applying the principles of printing through "machine-made Gobelins weaving. This technique attracted much public attention. Gobelins weaving is usually a generic term for hand-woven tapestry weaving in Europe, but the Gobelins weaving developed by Hirazo was completely different. Inspired by the three primary colors of color, he uses three or more warp threads and two or more weft threads of two or more colors, and combines them through various jacquards to weave a pattern that looks like a multicolored Gobelins weave.
Restoration achieved by overwhelming "comprehensive weaving ability"
"Comprehensive weaving ability" refers to all the knowledge and skills related to weaving, such as drawing up and creating designs, selecting and procuring raw materials, designing the structure, weaving techniques, and finishing. A high level of all these aspects is essential for restoration.
The first generation of the company, widely known as the leader in the restoration of ancient gire, devoted himself to the research and restoration of various fabrics, including Meibutsugire, Jyoudaigire, and Coptic textile. As a result, in 1923, at the request of the "Shokuho Society" established by the painter Seiki Kuroda and Naohiko Masaki, president of the Tokyo National University of Fine Arts and Music (now Tokyo University of the Arts), he restored 20 types of famous textile fragments from the Maeda family and 70 types from the collections of various other families.
Meibutsugire: Rivals from the early modern period (Muromachi to Edo periods). They include the national treasures "Sounji Bundai gire" and "Meibutsu Shikamon Arisugawa" (famous deer prints).
Jyoudaigire: Mainly Horyu-ji and Shosoin Rivals, etc. Shitennou hunting pattern brocade, Gyobutsu red mandarin duck arabesque pattern brocade.
Coptic textile: Coptic textile produced by the Copts, early Christians in Egypt. including dust and spelling parrots with zuika design.
Since then, his honest approach to research has been passed down to the fourth generation, and continues to be the foundation of Tatsumura's spirit. The knowledge he has gained through thorough research of ancient textiles, from raw materials to techniques, and the skills he has acquired through his thorough knowledge of all kinds of techniques. Restoration would not be possible without the total power of weaving.