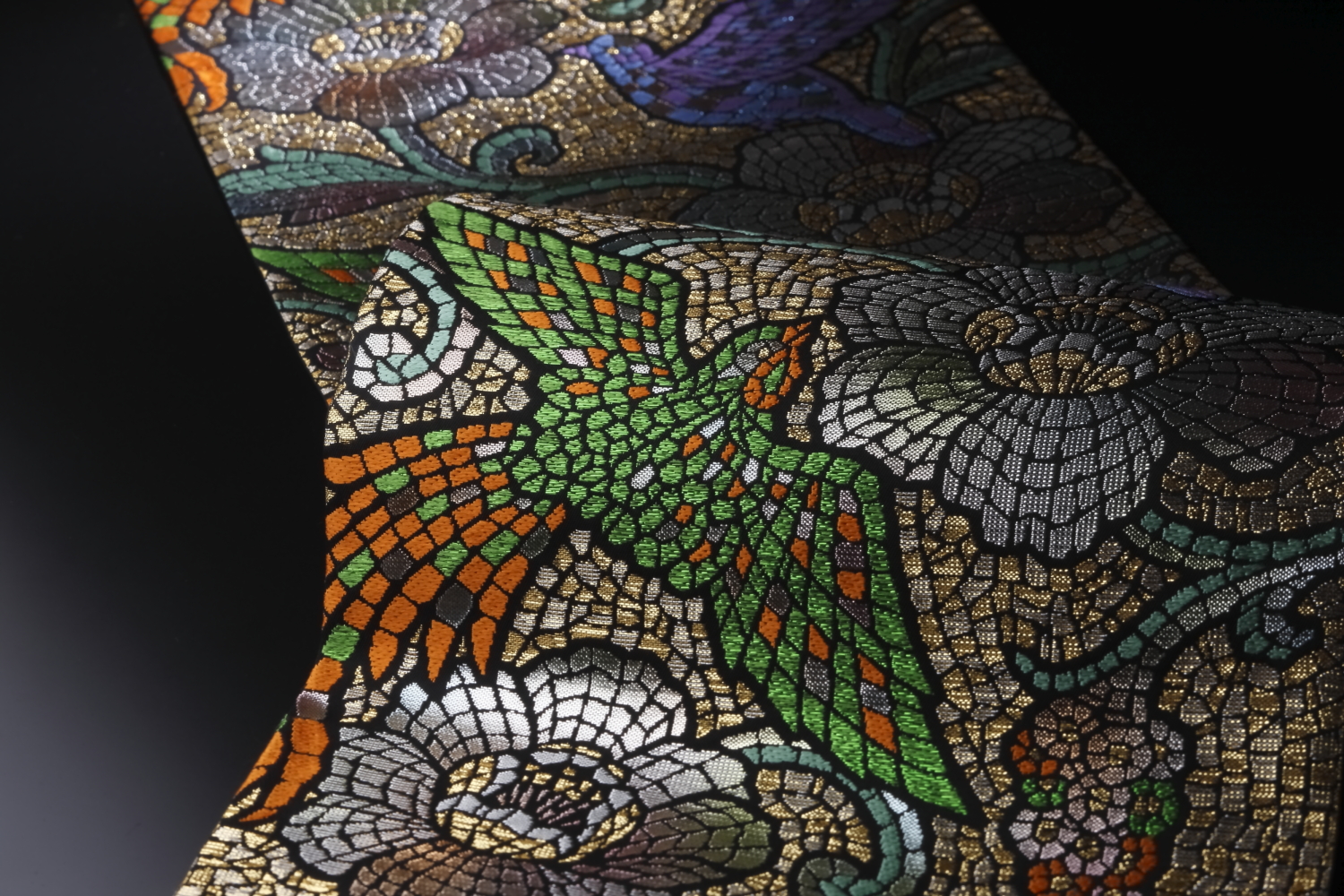 The lustrous colors that catch the eye, the gorgeously colored three-dimensional expressions, the unique patterns that condense the aesthetic essence of both Japanese and Western textiles… Tatsumura's art textiles are full of sensibilities that are recognizable at first glance.
Tatsumura Textile established the genre of fine art textiles and has continued to enhance it. We interviewed President and Representative Director Iku Tatsumura about the appeal of Tatsumura Textile, which is constantly being introduced to the world.
Innovative and original designs
– Tatsumura Textile designs do not fade over time.
First, we decide on a theme, make sketches, and gather design sources from various fields. We then arrange and brush up the designs that we think can be a trinity of design, color, and story, and this design is completed.
– Japanese and Western textiles are a concentrated collection of aesthetic essences. Are you conscious of patterns that can be easily incorporated into Western lifestyles?
The design sources are as diverse as ever, but we are conscious of the size and color of the patterns to match the present day.
– Are there any patterns that have been released in the past few years that are particularly innovative or that have received impressive reactions from customers?
We have created a fun and elegant "Otona Halloween" by laying out Halloween characters in a hidden picture style and adding a shimmering effect with silver thread, which was well received.
This was also our first Christmas pattern. The Nordic Nordic pattern was reconstituted with a Japanese auspicious pattern, and the coloring was western style with high saturation and silver threads to create a snowy atmosphere. We received favorable comments for the novelty of the Japanese-European winter pattern and the Kissho pattern.
Other animal patterns, such as a modernized version of a restored pattern, a cat pattern, and this year's zodiac sign "Tora," have also been well received, and are being developed into series and new patterns.
New Future of Art Textiles
– I think that the opportunities to wear Japanese clothes have decreased to a greater extent than when the company was first established.
What do you feel is the change in the industry? The two trillion yen industry that was once prosperous is now in the 200 billion yen range, and is expected to continue to shrink. However, the remaining true fans of kimono are now using the Internet to form more intimate and deep kimono communities through SNS and other means, and I feel that the level of maturity is dramatically increasing. Sometimes I also make myself available to respond to inquiries on our SNS, and I find it quite enjoyable.
– Tatsumura Textile is attracting a lot of attention for its new initiatives in the future. What kind of message would you like to send out in the future?
With the company motto of "Highest Quality" (manufacturing products that are the most elegant, graceful, and satisfy the highest quality of life) set by Heizo I, we will continue to transmit our art textiles to the world in the spirit of "Japanese dynamism, Japanese openness" (developing and spreading the accumulated Japanese weaving techniques to the world) to realize this motto.
The beautiful and fadeless designs have been passed down through the unwavering spirit of our company since its inception. We look forward to the further evolution of the company's aesthetic sensibility, which shines from within, and its flexible and broad vision.